Glam Glow Thirsty Mud Product Preview Event 05 July 2014
Readers,
AAAAAAAAAaaahhhh..
Im so happpyyyyyy!!! *bling bling bling bling*
(*berbinar-binar* in Indonesian laguage)
Have i told you, that i become one of the
Clozette Indonesia
ambassador??
(jumping around the room.... yeaaayyyy!!)
Im so happy and very excited because this is my first time becoming ambassador,
And i can attend this event, is also because im one of the ambassador...
This is so coolllll!!! yeayyyyyyy
I promise i will explain about Clozette Indonesia, how to join Clozette Indonesia, Clozette Indonesia ambassador on my next post,
(You can be one of their ambassador too!)
But now, lets talk about my experience trying
GlamGlow
Thirsty Mud!
The Product Preview Concept

Now we are talking about their event concept, and the situation around GlamGlow studio @ Plaza Indonesia 4'th Floor..
I call their concept as a private 'one on one' concept..
This is what we see, first time we enter the Glam Glow store, "Hello honey!"
GlamGlow Thirsty Mud... Ummmmhmmm, so tempting, so interesting...
We need this to hydrated our skin! Magic in a jar mask!
I ALWAYS excited to try new beauty products, and attend this kind of event, (especially because it's Glam Glow product).
Who doesn't know about GlamGlow anyway?
We all know GlamGlow, and some of us already buy it!
What i like from this event is,
We can ask directly to their Beauty Advisor about this product directly,
Their BA are very friendly, and very detail when they explaining about their products,
and i very satisfy with their explanation..
This is how they set the studio.. one guest, one beauty advisor,
it is like a very private session for the guests
ThirstyMud by GlamGlow
So who has tried Glam Glow youth mud or super mud?
Rise your hands up!
"Mee meeee meeeeee......"
Ahhh... i can hear your voice readers :)
So let me explain something,
This is not like Youth Mud or Super Mud...
This is so different...
Take a look at this photo...
First time i open the blue jar, i can smell yummy coconut biscuit fragrance
As you can see, readers..
It is not like other GlamGlow mud,
The color is even reminds me of my nephew, Dante's baby food,
And the smell of this mask is 'oh so good'!
It has a coconut biscuit fragrance on it..
Description, Results, and Ingredients
ThirstyMud description, as you can read on their
website
"THIRSTYMUD™ uses the newest, most advanced & extreme hydration active technologies, providing deep instant Extreme Hydration for Long, Medium & Short Term Results. THIRSTYMUD™ hydrates, moisturizes, restores, replenishes and calms the skin. Designed for Men & Women of All Ages, All Skin Types & Even After Shaving. New Super Technologies Dewdration™, HydraPack™, GreenEnergy™ & TEAOXI® will leave you with Hydrated Heart Pounding Glowing Skin."
And the results are :
Dewdration™ boosts and locks in moisture for a dewy and youthful result.
Hyaluronic Acid - delivers deep hydration.
Citric Acid - delivers intense hydration.
HydraPack™ leaves skin with an instant silky, soft and supple feel.
Botanimoist® - moisturizing sugars and acids from apples.
Oat Beta Glucan - soothing and calming multi skin hydrator. (gluten free)
HydraClay™ - super micro clay traps and retains moisture in the skin.
GreenEnergy™ instantly smooths and energizes the skin while giving you a healthy complexion
Raw Honey and Ginger Root for radiance and detoxifying
Coconut - immediate skin conditioning.
Ingredients :
Water (Aqua), Glycerin, Caprylic/Capric Triglyceride, Butylene Glycol, Cyclopentasiloxane, Pyrus Malus (Apple) Fruit Extract, Peg-8, Peg-100 Stearate, Glyceryl Stearate, Cocos Nucifera (Coconut) Fruit Extract, Zingiber Officinale (Ginger) Root Extract, Camellia Sinensis Leaf Powder, Olea Europaea (Olive) Leaf Powder, Tetrahexyldecyl Ascorbate, Honey (Mel), Allantoin, Saccharide Isomerate, Sodium Hyaluronate, Tocopheryl Acetate, Hexylene Glycol, Cetearyl Alcohol, Sodium Polyacryloyldimethyl Taurate, Caprylyl Glycol, Ethylhexylglycerin, Disodium EDTA, Hydrogenated Polydecene, Polysorbate 60, Menthoxypropanediol, Cetyl Alcohol, Acrylates/C10-30 Alkyl Acrylate Crosspolymer, Glyceryl Acrylate/Acrylic Acid Copolymer, **Avena Sativa (Oat) Bran Extract, Kaolin, Buteth-3, Trideceth-10, Benzophenone-4, Sodium Benzotriazolyl Butylphenol Sulfonate, Tris (Tetramethylhydroxypiperidinol) Citrate, Tributyl Citrate, Aminomethyl Propanol, Phenoxyethanol, Fragrance (Parfum), Coumarin, Linalool. **Avena Sativa (Oat) Bran Extract – "Oat Beta Glucan" is gluten free.
My First Impression
First i applied it on the back of my right hand, i don't feel 'tingling sensation' but what i feel is the mud slowly penetrate my skin and it leaves glow smooth effect on my hand. So, because i see this magnificent effect, i ask my BA to put it directly on my skin...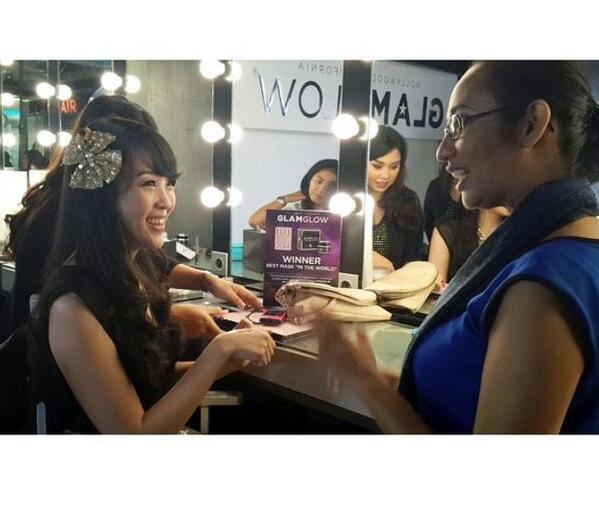 My BA (Beauty Advisor) applied ThirstyMud mask on my face using a brush, (it is like the
tappered eyeshadow brush
) all over my face but my eyes area, after cleaning my make up, and my first impression about this product when i used it, at the first 3-4 minutes, i feel 'tingling sensation' on my nose, chin, side mouth, and forehead..
Do you know what 'tingling sensation' is? It is little burning, itchy sensation on our skin...
And from what i got, the tingling sensation happened in a spot where our skin needs to hydrated the most (read: dry). My BA told me, the tingling sensation comes from one of their Green Energy ingredients, ginger roots and raw honey..
But after that 3-4 minutes, the 'tingling sensation' has gone, and leave a cool calming sensation (with the 'oh so good' coconut biscuit fragrance on it,
makes me hungry and wanna eat some sweets or cupcakes.)
First time i tried it on my right hands (picture above), and after that i tried it directly on my face..
I ask my BA, if i can use it with my skincare under the mask (some of the Korean mask products allowed us to use skincare under their mask) but this time is different, ladies..
This time, we use this without anything under...
Just the mask alone.
Wear it twice a week, all night long or just for 10-20 minutes...
The Result Show
Readers, i have to tell the truth,
ThirstyMud gives me the glowy supple skin after i used it,
I just try it once, and only for 10-20 min,but this little magic product gives me a good result!
No wonder GlamGlow been used by Hollywood artists.. !!
Glamglow gave me 2 tester sachet of ThirstyMud mask, and i will use it next week, and lets see how it does on my skin.
So excited!
After i got make up retouch from GlamGlow team
Thank you GLAMGLOW team ! :)
Meet Clozette Indonesia Team and Other Beauty Blogger
Because this is my very first time, joining Clozette Indonesia event,
Im looking forward to meeting their team, and other Clozette Indonesia ambassadors,
And now i know, they are all very friendly,
And i can get along well with them :)
Im so happy because i got this chance, getting to know other beauty bloggers, and attending this event,
Ohh once again, thank you Clozette Indonesia.. thank you GlamGlow :)
cheerssss
What a GREAT night readers... :)
Great night, with great products, and great new friends..
I cant ask more...
So that's all, readers...
I hope my explanation is as clear as my BA on ThirstyMud product preview event (LOL)
I hope this article is useful for all my readers :)
Ps : If you want your products being reviewed, just email me at theresiajuanitasblog@gmail.com
LOVE,
TJ